Annapurna Base Camp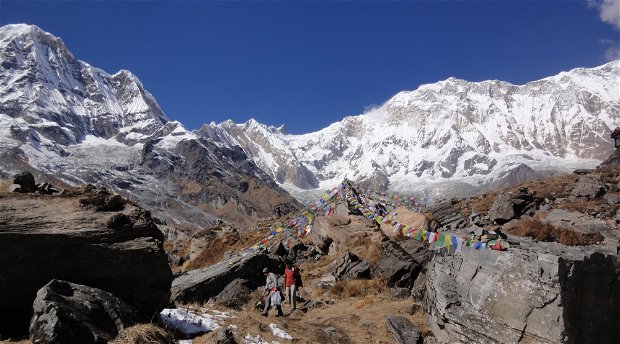 Annapurna Base Camp Trek is an amazing walk through varied landscape and culture complete with rich mountain panorama, terraced fields, ancient Gurung villages, and a wide variation of plants and animals. The considerable charm of this trek is Ghandruk and Chhomrong village, Annapurna base camp (4130m.), and Jhinu(Natural hot spring) a must to experience.

Nepal is a great country to visit. It has a rich cultural history, and it is full of places to explore. As the birthplace of Lord Buddha, there are many Buddhist temples and monuments that you can discover the country. You will be able to do so much with your time if you ever go to Nepa. In fact, if you love hiking then you should try going to Nepal to go on a hiking tour. There are many such tours that you can go on while you are in Nepal. And these include tour packages such as Annapurna Basecamp Tour for 14 days, this is a great tour, especially if you want to experience the wonder of the countryside of Nepal.
Why should you go on this kind of base camp tour? It is a great tour that will last for 2 weeks. You will be able to explore many sights around Nepal. And this is because you will be 4130 meters above sea level on this hike. This means that at this height you will able to see a lot of the surrounding mountains. And going on this hike is not very difficult at all. Many hikers have rated the Annapurna Basecamp Tour lasting 14 days, as having a medium difficulty. So if you already have previous experience hiking on other trips, you should have no problem completing this one. However, it is recommended that you do practice your hiking skills before you go on this hike.
The Annapurna Basecamp Tour lasting 14 days is affordable too. You will get a lot of value for your money on this trip. Accommodations are included, and transportation also comes with the tour and hike package. You get a one-way flight to Pokhara and even shuttle and transportation to and from the airport. You should have no trouble finding your way around Kathmandu and Pokhara because you will be transported by the various hike and tour guides. So whenever you are looking for a hike to go on, you should seriously consider going on this Annapurna Basecamp Tour for 14 days. It is one of the best hiking tours that you will ever go one. This is especially true if you are going on a trip to Nepal. If you are an avid hiker, then you should try this tour out because there are so many exciting things to see, and your skills as a hiker will be challenged too.
The first thing that you can expect on this tour is that you will have a shuttle service that will bring you to your accommodations in Pokhara. And your accommodations on this Annapurna Basecamp Tour lasting 14 days will be covered with the fee that you pay. You will stay in luxury accommodations for the duration of your 2 weeks stay on this trip. After the hike has ended, you will also be provided with a shuttle service to your departure point in Pokhara. So as you can see, you are well taken care of on this hiking trip.
WHAT'S INCLUDED IN THIS TOUR?
Items that are included in the cost of tour price.
Airport pickups and drops in a private vehicle
Domestic flights (Kathmandu- Pokhara -Kathmandu)
Entrance fees for sightseeing/monument visits as per the itinerary
Staff costs including their salary, insurance, equipment, food, and accommodation
Medical kit (carried by your trek leader)
All government and local taxes
Porter service (2 trekkers: 1 porter)
WHAT'S NOT INCLUDED IN THIS TOUR?
Items that are not included in the cost of tour price.
Nepalese visa fee
Private transportation except what is mentioned in the What Is Included section
International flights
Travel and rescue insurance
Tips for guide(s), porter(s) and driver(s)
Personal expenses


Itinerary
Day 1
ARRIVAL IN KATHMANDU (1,300M/4,264FT)
Day 2
KATHMANDU: SIGHTSEEING AND TREK PREPARATION
Day 3
FLY TO POKHARA AND TREK TO ULLERI (2050 M/6725 FT): 30 MIN FLIGHT AND 6 HOURS TREK
Day 4
ULLERI TO GHOREPANI (2,750 M/ 9,020 FT): 4 - 5 HOURS TREK
Day 5
GHOREPANI TO TADAPANI (2,700M/8,860FT) WITH A VISIT TO POON HILL (3,210M/10,529FT): 6 - 7 HOURS
Day 6
TADAPANI TO CHHOMRONG (2170M/7120FT): 6 HOURS TREK
Day 7
CHHOMRONG TO BAMBOO (2310M/7578FT): 4 - 5 HOURS
Day 8
BAMBOO TO DEURALI (3230M/10,595FT): 3 - 4 HOURS
Day 9
DEURALI TO ANNAPURNA BASE CAMP (4,130M/13,545FT) VIA MACHHAPUCHHRE BASE CAMP (3700M/12135FT): 5- 6 HOURS
Day 10
ANNAPURNA BASE CAMP TO BAMBOO: 7 - 8 HOURS
Day 11
BAMBOO TO JHINU DANDA (1760M/5770 FT): 5 - 6 HOURS
Day 12
TREK TO NAYA PUL THEN DRIVE TO POKHARA: 6 HOURS TREK, 1 HOUR DRIVE
Day 13
FLY FROM POKHARA TO KATHMANDU