Manaslu/Tsum Valley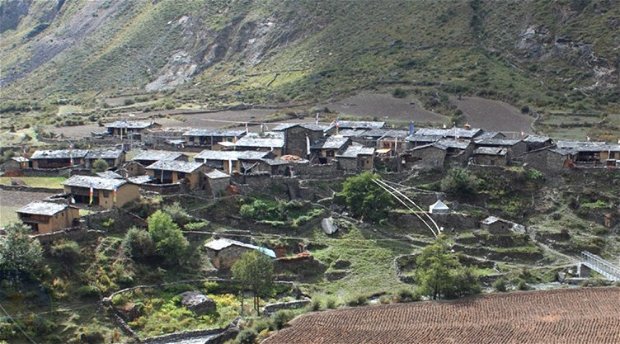 Manaslu/Tsum valley trek is one of the most beautiful trekking holidays in Nepal which introduces you to the antique monasteries, chortens, and gompas in the region. You can also have a lookout for the National bird of Nepal "The Himalayan monal (Lophophorus impejanus)" also known as the impeyan monal, impeyan pheasant or danphe and other beautiful mountain birds. This trek takes you into the splendid surroundings of Sringi Himal, Boudha Himal, Ngadi, Ganesh Himal and Larkya peak. The Mount Manaslu trek over Larkya La displays fabulous views of snowfalls and frozen lakes, Himlung Himal, Cheo Himal, Kangguru and the massive Annapurna II and also Tibetan border on the northern side of the Manaslu region. People, culture, and landscape of the Tsum Valley is closely related to that of Tibet and you can meet Buddhist monks and nuns and visit Milarepa's Cave, one of the major highlights of the trip.

Thinking of doing two trekking places at the same time? What could be the possible places that you need to list down for your trip and above all the number of days that you want to be spending in both places at the same time? It is said to be that Manaslu and Tsum valley trekking can be done, but you will have to miss out on certain places that might be of great value to you. However, if you are willing to spend at least 20 days, this is already a good deal of trekking.
What are the factors to consider?
Since you want to do Manaslu and Tsum valley trekking, one of the important things that you need to do first is to check it out with the travel agency. Their advice should not be taken for granted regarding the best month of trekking in two places, the budget and the number of days available. There are some trekkers that want to have a full experience if they wish to see both Manaslu and Tsum valley. According to experienced trekkers, staying in Tsum is a must. This will be a little less stressful as it is going further.
Another factor that you should consider is the weather. There are certain months in which trekking is prohibited due to the weather condition. If you are not certain enough, it would be best for you to check it with the agency before you're going to book a trip. If it is too risky for you to follow, then reconsider the date you want to embark on your trip.
Schedule of Manaslu and Tsum valley trekking
A local trekking crew is a right person for you to ask about the itinerary because going on trekking is not the same as asking for directions to the locals. The purpose of trekking is for those people who are taking advantage of learning about the place by not just sightseeing but also having a connection with the local people.
What To Do Next?
Tour guides are very essential in this particular activity. Professional tour guides will bring you the right information and detail about the place. Also, they can answer questions asked by tourists about the trip, the place, etc. Your trip will be all worth it because you have the right person/s to be with you and at the same time give you the best Manaslu and Tsum valley trekking experience. Therefore, deciding which to go will not be a hassle. The itinerary is all laid down and you have someone to show you around. Take the pleasure of having a tour guide and experience Manaslu and Tsum valley trekking like how it should be.
So, go for Manaslu and Tsum Valley Trekking. This package will be enjoyable and worth every single minute of it. At the same time, you will have the pleasure of appreciating these two destinations and be immersed with the locals at the same time.
WHAT'S INCLUDED IN THIS TOUR?
Items that are included in the cost of tour price.
All airport/hotel transfers.
Two nights' accommodation with breakfast at a 3-star category hotel in Kathmandu.
Full board meals with tea/coffee (breakfast, lunch, and dinner) during the trek.
Best available twin sharing lodge to lodge accommodation during the trek.
One highly experienced, helpful and friendly guide, porter (1 porter for 2 people) and their food, accommodation, salary, equipment, and accidental insurance for all staff.
Surface transfer from Kathmandu – Arughat by private jeep and Arughat to Soti Khola by local jeep.
Similarly transport from Dharapani – Beshisahar by public jeep and Beshisahar – Kathmandu by private car.
All necessary permits including Annapurna and Manaslu conservation, and TIMS card fees.
First aid medical kit.
Government taxes and office service charge.
WHAT'S NOT INCLUDED IN THIS TOUR?
Items that are not included in the cost of tour price.
Meals not specified in the 'Meal Inclusions' in the itinerary'.
Travel insurance.
International airfare.
Nepal entry visa: you can obtain a visa easily upon your arrival at Tribhuwan International Airport in Kathmandu (a multiple-entry tourist visa good for 30 days can be obtained by paying the US $ 40 or equivalent foreign currency. Similarly, multiple-entry tourist visas for 90 days can be obtained by paying the US $ 100. Please bring 2 copies of passport-size photos.)
Cold drinks, bottled or boiled water, snacks, and other personal expenses.
Hot shower during the trek.
Personal trekking equipment.
Tips and gratuities for trekking staff and drivers.
Itinerary
Day 1
Arrive at Tribhuvan International Airport (TIA) Kathmandu Arrive in Kathmandu at any time.
Our Airport representative will welcome you and explain the program further. There are no planned activities for the day, so check into the hotel. Enjoy your overnight stay at the hotel. 
Day 2
Preparation for trek and Kathmandu valley sightseeing tour
Touring the World Heritage Sites in Kathmandu Valley that includes: Kathmandu Durbar Square, Swayambhunath Temple, Boudhanath Stupa and Pasupatinath Temple. Overnight at the Hotel (Breakfast Included).
Day 3
Kathmandu to Soti Khola (710m/2328ft) via Arughat, duration: 8-9 hrs.
You will be picked up by your guide from your hotel, at around 8 a.m. in the morning. We drive for 8 hours to Arughat. Four hours journey from Kathmandu to Dhading Besi (The district headquarter of Dhading (1050m) is a comfortable drive but the rest four hours, from Dhading Besi to Arughat, we will be driving on a rough road. We further drive for 1.5 hrs to Soti Khola in a public jeep. Overnight at Guesthouse (Breakfast, Lunch and Dinner Included).
Day 4
Soli Khola to Machha Khola (900m/2952ft) Duration: 5-6 hrs.
Today, we follow a trail with constant ups and downs. We walk through the forest and continue upstream along the Budhi Gandaki. Then, we descend to a wide, sandy riverbed and continue along a winding mountain path overlooking the river. Stay overnight at Guesthouse (Breakfast, Lunch and Dinner Included).
Day 5
Machha Khola to Philim (1590m/5215ft) Duration: 6 hrs.
The route climbs on a rugged rocky trail. We climb up and down ravines and notched trees. We get good views of Sringri Himal as we continue up to the village of Philim at 1550m.This is a large Gurung village with fields of corn and millet. There are several good campsites and we set up camp surrounded by alder, blue pine and poplar trees. Stay overnight at Guesthouse (Breakfast, Lunch and Dinner Included).
Philim to Ripche (2470m/8101ft) Duration: 6 hrs.
We take the trail up through Philim and head up over a ridge that leads to Ganesh Himal Base camp and Ripche (Lower Tsum). We stay at the night at Ripche. Overnight in local teahouse (Breakfast, Lunch and Dinner Included)
Day 6
Ripche to Nile/Chhule (3360m/11020ft), visit Milarepa Piren Phu Cave, 8-9 hrs.
From Ripche we trek to Chhokangparo then Nile. Upper Tsum valley (part of the Inner Himalaya) open from Chhokangparo.Chhekamparo is a village situated on flat land and made up of two settlements Chhekam and Paro. From the valley, the Ganesh Himal range can be seen directly to the south where it provides spectacular views of the Baudha and Himal Chuli peaks to the south-west. Some households in this village practice polyandry. From Chhokangparo we trek to Nile/Chulle. This is the last village heading north in the upper Tsum Valley. Nile is on the western, sun-side of the Shiar Khola, about 20 minutes walk across from Chhule. On the way we pass the Piren Phu cave. Piren Phu (pigeon cave) is one of the most sacred caves in the Tsum valley. It is located at the foot of a rugged cliff near the village of Burji. Milarepa, the famous Tibetan saint, was believed to have meditated here. There are two separate Gompa attached to the rocky cave. Richly painted Buddhist murals, excellent artistic scripts carved on stones, long prayer flags and significant Buddhists paper scripts make this cave one of the most important socio-cultural asset in the valley. Overnight in local teahouse (Breakfast, Lunch and Dinner Included)
Day 7
Nile/Chhule to Mu Gompa (3700m/12136ft), visit Dephyudonma Gompa, 5 hrs
From Nile the trail gradually ascends to Mu Gumba, the largest monastery in the region. Mu Gumba is located at the highest and farthest point in the Tsum valley. Mu Gumba was established in 1895 AD and is situated at an altitude of 3510m.The monastery houses religious books, including Kangyur, a life sized statue of Avalokiteshwara, and images of Guru Padmasambhava and Tara.
Day 8
Dephyudonma Gumba 2hrs and Mu Gompa to Rachen Gompa (3240m/10630ft) Duration: 05 hrs
Dephyudonma Gumba is one of the oldest monasteries in the Tsum Valley and is situated in the rugged mountains, a 2 hr walk from the village of Chhule and Nile. The history of this monastery is directly associated with the dawn of Buddhism in the valley. The monastery is run by Lama Serap of Nile Ladrang from the Kangi sect. There are a few campsites and drinking water facilities. Overnight in local teahouse (Breakfast, Lunch and Dinner Included)
Mu Gompa to Rachen Gompa (3240m/10630ft) Duration: 05 hrs.
From Mu Gumba we take the trail to Rachen Gumba, a nunnery. The nunnery is situated in the Shiar Khola Valley in the foothills of the mountains bordering Nepal and Tibet. Rachen Gumba was established in the year 1905 AD and is one of the largest nunneries in the Tsum valley. It houses nuns belonging to the Ngak-pa sect, which does not allow animal slaughter.
Day 9
Trek to Deng (1860m) Duration: 7 - 8 hours walking.
The nunnery houses one thousand clay, moulded statues of Avalokiteshwara, a brightly colored, carved throne and pillar, and a large prayer wheel. The interior is richly painted with murals about Buddhism and its history. Overnight in local teahouse.(Breakfast, Lunch and Dinner Included)
Day 10
Trek to Namrung (2900m/9512ft) Duration: 5 hrs.
We scramble steeply up onto a spectacular trail and descend to cross the river. We pass through some small settlements and ascend to an impressive valley where we encounter various Mani stones (prayer stones) carved into wayside rocks, a sign that we are entering a Tibetan territory. In the afternoon, we make an excursion to the small settlement of Prok. It is a two hour round trip. Overnight at Guesthouse (Breakfast, Lunch and Dinner Included).
Day 11
Namrung to Lho Gham (3180m/10430ft) Duration: 3-4 hrs.
We continue our trek from Namrung. We steadily climb up into the alpine where we see the first glimpse of Manaslu North and Manaslu. The stunning view of Manaslu is awe inspiring. Overnight at Guesthouse (Breakfast, Lunch and Dinner included).
Day 12
Trek to Samagaon (3500m/11480ft) Duration: 6 hrs.
We pass the stone gate and a long Mani stone wall of the village, with full view of Peak 29 ahead. We can also make a side excursion to Pungen Glacier to get a close up view of Manaslu. The trial follows a lateral moraine of Pungen Glacier towards Sama. After another 20 minutes walk, we reach Sama Gompa where we stop for a night halt. Overnight at the Guesthouse (Breakfast, Lunch and Dinner Included).
Day 13
Acclimatization day at Samagaon
This day has been set aside for acclimatization. An option for full or half day walks has been set aside. Full day walk is towards Manaslu Base Camp (approximately 6-7 hour round trip). Alternatively, there are half day walks either to the glacier across the valley or to Birendra Ta. Stay overnight at Guesthouse (Breakfast, Lunch and Dinner Included).
Day 14
Trek to Dharmashala (4450m/14596ft) Duration: 6-7 hrs.
The trail crosses grazing areas and gradually climbs the valley. Fantastic views of the mountains especially Manaslu leads us to Samdo (3860m), a Tibetan refugee village. This remote village is only a day's walk from the Tibetan border. After crossing a couple of streams, we reach the Larkya Bazaar, a village that thrived off trade with Tibet years ago. We reach a lodge at 4450m, after a steady climb. It is the last night before the pass. Overnight at the guesthouse (Breakfast, Lunch and Dinner Included).
Day 15
Trek to Bhimphedi (3590m/11775ft) via Cross Larkya La pass (5220m/17121ft) Duration: 8 hrs.
We climb Cho Chanda and slowly head uphill towards the steep snowed-up pass. The panorama from the top is magnificent: Himlung Himal (7126meter), Cheo Himal (6820meters), Gyagi Kung, Kang Kuru (6981meters) and the Annapurna II (7937meters). Then, we descend steep, through moraines to Bhimphedi. Stay overnight at Guesthouse (Breakfast, Lunch and Dinner Included).
Day 16
Trek to Tilje (2300m/7544ft) Duration: 5 hrs.
With a gentle climb through the paddy fields, we head towards Karcha La pass. The trial descends through fig trees and rhododendron forests to Tilje. Overnight at the guesthouse (Breakfast, Lunch and Dinner Included).
Day 17
Trek to Chamje (1410m/4625ft) Duration: 6-7 hrs
We climb over a small ridge and enjoy the stone paved trail as it passes through a beautiful village. We then cross the bridge over Dudh Khola and climb up through a Chorten-shaped arch, pass a mani wall and reach the Thonje village. At the village, we go through a police checkpoint and continue to Dharapani. We have entered the Annapurna circuit section from Dharapani.
Day 18
Further down, we come across Karte village
Further down, we come across Karte village and after quite a bit of walking we cross a bridge over Marshyangdi Khola. We also come across some mani walls before reaching the village of Tal, situated at the foot of a large waterfall then short descend to Chamche village. Stay overnight at Guesthouse (Breakfast, Lunch and Dinner Included).
Day 19
Drive to Kathmandu (1337m) Duration: 8 hrs
We catch a local jeep to Beshisahar and then drive to Kathmandu in a private car. Stay overnight at Hotel (Breakfast and Lunch Included).